Creating a Rationally Positive Attitude
Overview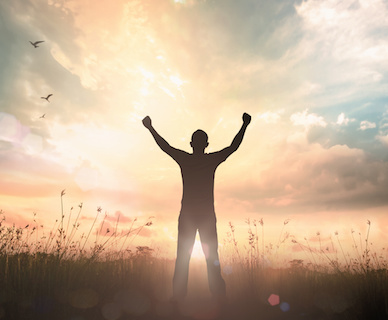 When you're discouraged, it's important to maintain an optimistic,  constructive, benevolent mindset. You do this by staying focused on values.  Such a mindset can be based entirely on the facts of the real world around you, including your own ability to manage your own mind and cope with any intense emotions.  In other words, you can create a rationally positive attitude, not by "faking it until you make it" or by ignoring the negatives in the world, but by understanding and accepting your situation more deeply. I like to say that "accepting reality" means accepting your emotions.  You do this, by logic, self-empathy, and an objective focus on both your own deepest values, and fundamental, rational values.
I've written and taught extensively on this issue and people have found it helpful to immerse themselves in this material. On this page, you can read through blog articles, Thinking Lab articles, and access 12+ hours of audio recordings from past Thinking Lab classes.
Note: This page is open to the public, but non-members can access only the blog posts, not the password-protected Thinking Lab articles and recordings.
Blog Articles
How Identifying Three Good Things Each Day Makes Your Life Better
Getting More Emotional Impact from Good Things that Happen in Life
If you don't have resources for self-awareness, you don't have resources for anything
Tackle Tough Long-Term Issues with Three Pages a Day
Three Signs You Need to Check Your Premises
Right Brain/Left Brain vs. Conscious/Subconscious
Introspect So You Can Take Action
Use a Physical Process to Release Tension
Distinguishing Feeling Overloaded from Feeling Overwhelmed
The Alternative to a "No Choice" Rule
Don't mistake your questions for your choices
Eyes-Wide-Open Decision Making:  An Overview   (See also the three Class Recordings below on different aspects of the Eyes-Wide-Open Decision Making process.)
Thinking Lab Articles
Tactic: Empathy Bath  (See also the Class Recording on the Empathy Bath technique below.)
Tactic: Transforming the Pain of Unmet Needs (See also the Class Recording on Transforming the Pain of Unmet Needs below.)
Exercise: Recalibrating Emotions
Mini-Course: Gaining Objectivity About Emotions
Mini-Course: Developing a Central Purpose
Class Recordings
A description and link to the recording for each of 14 classes can be found below.
This information is only available to members.
Log in here
Not a member?
Read more and join here.