The Thinker's Toolkit
The Thinker's Toolkit explains the mental tools you need to solve problems faster, understand emotions, and make better decisions.
These time-tested tactics come with some material support: a 4-color pen, a thinking notebook, and "mental cleanup" pads.
Order yours today for only $40 (shipping is extra if outside the USA). Please select the appropriate Cart button.
US Only
Canada Only
International (not US or Canada)
Despite Uncertainty, Temptation, and Resistance
A 6-hour Recorded Class
This class teaches a radically positive approach to doing challenging work. In this class, you will learn:
How to quickly untangle confusion about what matters most now
The #1 tool for focusing your mind on your top priority
The key to disarming temptations that pull you off course
How to handle resistance without just resorting to pressuring yourself
The power of your mind to motivate what matters most
A 6-hour Recorded Class
You already know what you need to know to complete most of the complex items on your To Do list. There's just one problem. You can't always access the information when you need it.
We've all felt stuck in our thinking at times — though you may have called it "procrastinating" or "bogging down" or "going in circles."  A few basic tools can slay these dragons.
If you want to speed up the process, and learn to access what you already know when you need it, you can learn how in my 4-session course, Tap Your Own Brilliance. This class presents the core toolset you need to pull helpful information out of your own brain, and use it to solve problems faster, make better decisions, and communicate more effectively.
Upcoming Events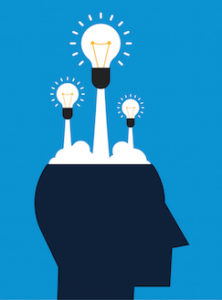 Stay tuned for the next live event. In the meantime, sign up for the Thinking Directions Starter Kit here.
Thinking Directions Starter Kit
Membership Program:
The Thinking Lab
My membership program, the Thinking Lab, includes access to all my past and present work, and a sneak preview of upcoming offerings. Each month in the Thinking Lab, I offer two new videoseminars on topics of interest to members. Members also can access a large library of tactics and recordings of a dozen past classes, including Just-in-Time Planning and Smarter Execution.